Among a variety of health services offered in Everett including community care, clinics and more, Providence Regional Medical Center is the city's world-class, state-of-the art acute care facility that provides innovative treatment across the continuum of care. It is Washington state's most award-winning hospital for medical care, distinguished for everything from specialty patient care to environmental excellence.
With multiple campuses and dozens of units, Providence Regional Medical Center continues growing with the community, investing in the latest medical education, equipment and technology to empower caregivers while working to provide personalized mentorship and career growth opportunities to all.
Learn why our caregivers love working at Providence and living in Everett.
Recognition
Providence Regional Medical Center Everett has been recognized as a Best Hospital in the Seattle Metro area by U.S. News & World Report.
The annual Best Hospitals rankings and ratings are designed to assist patients and their doctors in making informed decisions about where to receive care for challenging health conditions or for common elective procedures.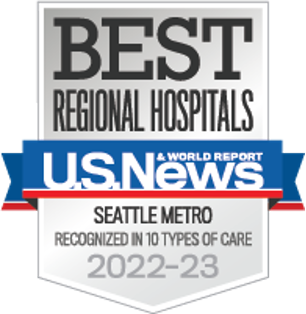 Neighborhood Life
Everett Community
Bordered by the Cascade Mountains and Puget Sound, Everett is one of the state's largest cities less than a 45-minute drive from Seattle.
Everett has a thriving waterfront and downtown filled with bars, restaurants, theatre, street art, a huge sporting/events arena and some of the state's best vintage shopping, so there's never a shortage of things to do or places to be on your time off.
Snohomish County is home to over one thousand farms, situating Everett in the middle of the freshest produce you can find and tons of outdoor seasonal fun.
Everett is also friendly on the wallet – our team says they live at a fraction of what it would cost in Seattle, while still enjoying a large and vibrant city.
Explore our area
Discover the area surrounding Providence Regional Medical Center Everett.